KING MIDAS DIGITAL GOLD COIN
We sell gold coins of King Miders Digital Gold. If you wish to purchase, please apply from the following major Internet shops or
click here.
Coin Design DIGITAL GOLD OF KING MIDAS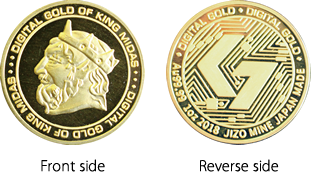 Specification
Coin Name
Purity Level
Size

Weight
Sales Price
Total Issue No.
Manufacturing Method
Vanity Case
KING MIDAS DIGITAL GOLD COIN
Au 99.99% (Pure Gold 24K)
Diameter 30 mm, thickness 2.7 mm
(It's the same size as Maple Leaf Gold Coin.)
1 oz (31.1035g)
JPY 299,000 (internal tax)
1000 sheets
Contract Manufacturing
We will ship it in JIZO Mining original case.
※ Please note that gold coin designs may be changed without notice.
Design Concept
【Front side design】
It is a motif of Midars King's portrait, which is famous for the Aesop story, which turns all touching things into gold. King Midars is also a famous king even "King's ear is a donkey's ear". The outer ring part is stamped as "DIGITAL GOLD OF KING MIDAS".
【Reverse side design】
As the image of "DIGITAL GOLD", we designed gold initial letter G in the center of the wiring base pattern of the IC chip.
On the outer ring part, "DIGITAL GOLD" on the top and both sides, "Au 99.99, 1 oz,., 2018 Jizo mine, Japan made" on the bottom left.