Modernize Japanese gold mine has been decline, not because gold vein has been exhausted. Direct factor of the gold mine decline was a gold mine development ordinance which was issued in 1943, during
World War II
. The hundreds of gold mine by
national policy
during the war is all pause or abolished in a moment, gold mining business got catastrophic damage. The decline of the Japanese gold mine of modern times is due to national policy. It is also because had never exhausted digging gold, not also because it is no longer.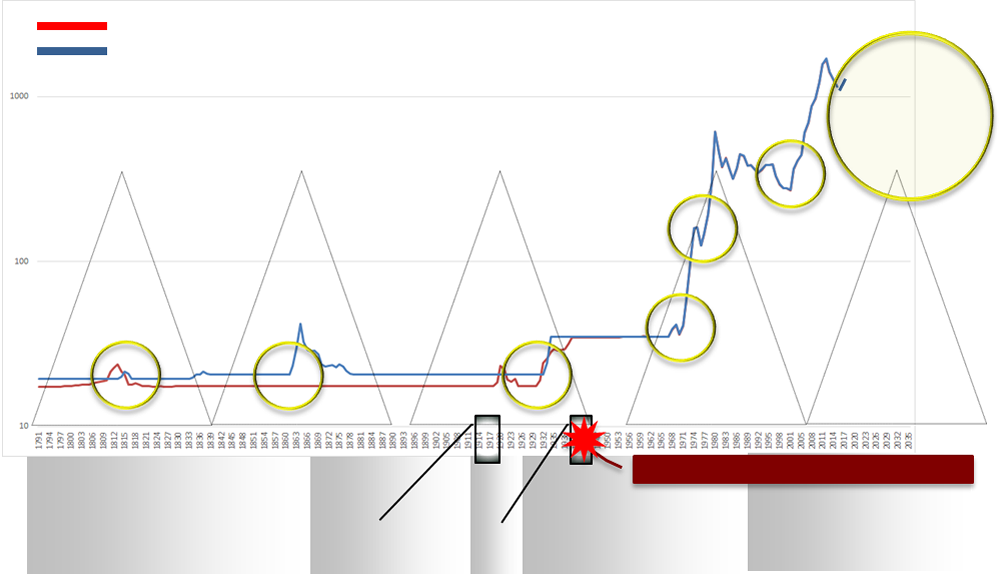 Red Line : London Market Price
Blue Line : New York Market Price
225 years ( 1791 – 2016 )
US dollars per troy ounce (US / tr)
Gold mines in Japan, the transition from a non-national projects after
the war and Gold Mine Development Ordinance of 1943 up to now,
not be revived even after rising gold prices since Nixon shock.
UK / Established Gold Standard
The gold standard is established in UK.
Gold guarantee that the value of
currency.
US / Stopping Silver Standard
US Federal Reserve Bank decided
o stop the silver standard.
Transition to substantially gold
standard.
World Depression
The Great Depression occurred
and it effect as no function of
resurrected the gold standard.
All countries abandoned the
gold standard since this happen.
The Gold Standard Abolished
USSR invation attach in Afghanistan
Iran - Iraq War
International information is unstable.
Nixon Shock
US dollar issuance has exceeded the
gold bullion holdings. Stopping the
exchange of currency and gold.
Sub-prime mortgage crisis
Lehman shock
US bubble collapse
The sub-prime loan problem is
discovered, the stock crashed.
The fund is migrating from high-yield
financial market to the gold market.
Destabilization of
International Situation
 ・UK - EU disengaged
 ・The rise of protectionism
 ・Islamic State problem
Edo
Period
Meiji
Period
Taisho
Period
Showa
Period
Currency in circulation:
Gold / Silver / Copper
World War I
World War II
Empire of Japan, Gold Mine Development Ordinance (1943)
With the outbreak of the Pacific War, the lack of military materials by imports from overseas., it diminished the significance of the Gold as for overseas payment. Japan became an urgent need to self-sufficiency of direct the necessary mineral resources in the war (Copper, Iron, Coal, Lead, Zinc, Manganese, etc.), the most of the Gold mine became the closure.